Atkin Guitars was founded in Canterbury, England, in 1995. Since then we've grown steadily from a one-man operation building a handful of one-of-a-kind instruments each year to become one of the UK's leading acoustic guitar makers.
Still in Canterbury, and now a seven-man operation, we build around 350 guitars a year, each one still handmade.  We now offer a range of models sold through dealers and a small custom shop making any kind of acoustic guitar that can be dreamt up!
"Every now and then, what you might call a 'real acoustic' falls into your hands, and reminds you of what this wooden box with strings stretched across it is all about. The Atkin is one such instrument."

Guitarist Magazine – Sept 2015
The story of Atkin Guitars is one of constant dedication to building the best possible instrument. What do we mean by "best"? While other high-end guitar makers seem obsessed with turning out "perfect" guitars – exhibition pieces so immaculate they no longer feel man-made – we're interested in other, more important qualities. Our aim is always to create an instrument with more feel, more personality and more spark. We want our guitars to bring the player something exciting and unexpected, something that will inspire them to make great music.
We're passionate about the history and evolution of the acoustic guitar, the classic models and great innovations that have influenced the players and the music that we love. We want to tell that story with our guitars. Over the years, we've worked on just about every model you can name, from golden-era pre-war Martins and Gibsons to the boutique makers who shook things up in the 70s and 80s. We know these guitars inside and out, and we pour all of that experience into every guitar we make.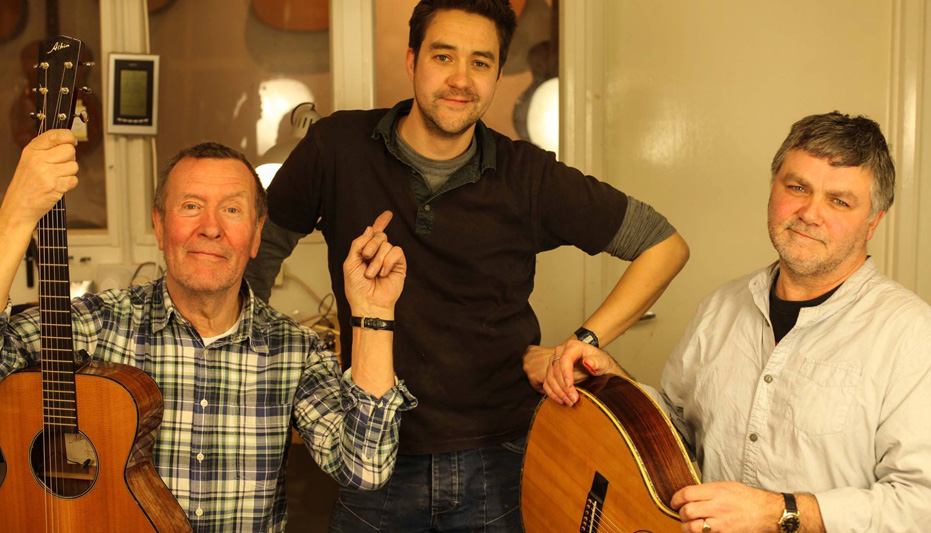 All of our guitars are built by hand here in our workshop. We stick to tried-and-tested traditional construction methods, but we're not afraid to embrace new technology where we feel it can do a better job, just as long as there's zero compromise in terms of tone. So, for example, frets are fitted and finished by hand but we use precision computer-controlled routing to cut the fret slots. All our guitars feature nitrocellulose lacquer because we believe it's still the best sounding, best looking finish a guitar can have.
I can genuinely say – as a guitar player that's been playing since I was a boy – that Alister Atkin's acoustic instruments are the best that I've played. They're on a par with a lot of old vintage stuff that I've had the pleasure of playing.

Richard Hawley / Guitar Buyer Interview
The development of Atkin Guitars owes just as much to the players who have used our instruments. 15 years ago, Andy Mitchell and Boo Hewerdine were among the first to discover Atkin Guitars and since then the list of pro players who choose to play an Atkin has grown – purely through word of mouth and personal recommendations – to include Jim Moray, Kris Drever, Kathryn Williams, Eddi Reader, Elbow, Chris Difford, Nick Harper, Callum and Neill MacColl, Amrit Sond, Richard Hawley and Graham Coxon. We were proud in early 2018 to present a guitar to Robert Plant, custom spec'ed for him in conjunction with the Buddy Holly foundation.